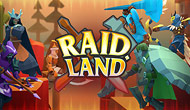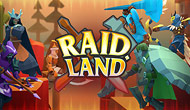 Move Shoot
Space
Jump Skill :maj
+
clicL: Special
o
Drop Gold
r
Taunt Score
Raid Land
Author : Blue Wizard Digital -

50 349

plays
Raid Land is a competitive online multiplayer game in which two teams will compete to steal gold and collect as much as possible to win. Based on a class system that you can evolve, Raid Land offers you to play either a Warrior, a Hunter or a Berserker. They all have special skills and a talent tree to unlock when you level up.
How to play Raid Land?- In the menu, click on the 'play' button then choose the class you wish to embody. When the game begins choose your team, red or blue.
- Once the game has started your objective will be to steal gold from the map and bring it back to your base.
- Take care to the players of the opposing team, they will have the same objective as you and they will have to be eliminated if you wish to win.
What are the different classes in Raid Land?- The Warrior is armed with a sword and a shield to protect himself. His two special skills are 'Shield Rush' (a quick charge with the shield) and 'Shield Slam' (the warrior jumps and then crashes with a violent shield blow).
- The Hunter is equipped with a bow and arrows to kill his enemies from a distance. His two special skills are 'quick dodge' (which allows you to dodge quickly) and 'Slomo Shot' which allows you to make a slow-motion shot in the air.
- The Berserker is armed with a devastating two-handed axe that will do tonnes of damage! His two special skills are 'Ax Throw' which allows you to throw away your axe and 'Ax Strike' which will allow you to give a violent blow while jumping.
How to invite a friend to play Raid Land?- If you are in the lobby waiting for a game to start, a code will appear at the bottom of the screen, copy it and send it to your friends so that they can join your game. You can invite two friends on the same game.
- If you are directly in a game press 'Tab' and copy the code located below the scoreboard.
Who is the developer of Raid Land?Raid Land was developed by SideQuestNZ and is published by Blue Wizard Digital who have made other games such as Shell Shockers or BasketBros