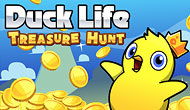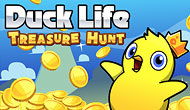 Duck Life : Treasure Hunt
is a Flash game emulated with
Ruffle
. This emulator is still under development and you might occasionally encounter some bugs in the game. Bugs should be fixed over time depending on the progress of the application development.
Action
Duck Life : Treasure Hunt
Author : Wix Games -

76 197

plays
The life of a duck is not as gloomy as it sounds! In Duck Life 5 ducks are in search of a treasure that would be appeared in a strange cave near the village. At the beginning of the adventure your little duck will not be agile or fast, or even very strong. But courage and bravery will never miss him! Go to the cave in search of treasure and try to reach the end. Earn money, upgrade your duck and use magic items you found in your travels.