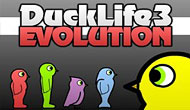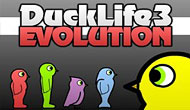 Ducklife 3 Evolution
is a Flash game emulated with
Ruffle
. This emulator is still under development and you might occasionally encounter some bugs in the game. Bugs should be fixed over time depending on the progress of the application development.
Action Move
Ducklife 3 Evolution
Author : Wix Games -

42 320

plays
Transform your duck into a high-level athlete in Ducklife 3 Evolution! Some farmers managed to create genetically modified ducks, which can now specialise in a specific field and acquire special skills. Train your duck to become an all-round athlete, make him run, jump, swim and fly to increase his stats, and then take part in qualifying races. Win these and get promoted to the upper leagues, where your duck may well become the best competitor in the world.