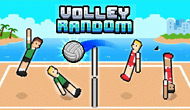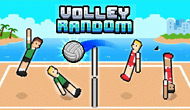 Player 1
Action
Player 2
w
Action
Volley Random
Author : TD2TL | RHM Interactive -

321 707

plays
Play Volley in an original and sometimes a little random way in the game Volley Random. Jump with your players to move around the field and try to return the ball to your opponents' court to score points. The fun physics of your stick-shaped players will often lead to some whimsical and unpredictable actions. Especially since the balls will be of various sizes and shapes, you can play with basketballs, rugby balls and sometimes even bombs which will explode after a certain time.
How to play Volley Random?Press and release the key on your device so that your players jump and can touch the ball to return it. Counter the balls sent by the opposing team and try to hit the ball hard to make it fall on the ground of the other side. The first player to score 5 points wins the match.
What are the game modes of Volley Random?Volley Random offers two game modes, solo against the computer or two players on the same device to challenge your friends or family in fun and hilarious matches!
Who is the author of Basket Random?The game was developed by TD2TL, a studio created by Bilge Kaan. TD2TL has also produced other similar games such as Basket Random and Soccer Random.