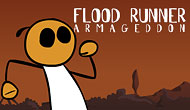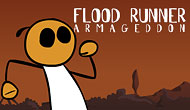 Flood Runner 3
is a Flash game emulated with
Ruffle
. This emulator is still under development and you might occasionally encounter some bugs in the game. Bugs should be fixed over time depending on the progress of the application development.
- Main bugs: Game loading not visible / Music or sounds may be missing
Action :clicL
+
clicL: Double Jump Hold to plane
Flood Runner 3
Author :

BenRad

-

176 982

plays
Introducing the third instalment of Flood Runner! The aim is still to run and jump from one platform to the next to escape the wave that's hot on your heels. Flood Runner 3 has improved graphics and the game itself is a little less tricky than the previous episodes. If you fall into the water or lava, perform a QTE to survive and rejoin the race.