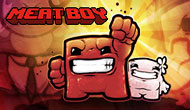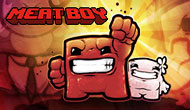 Meat Boy
is a Flash game emulated with
Ruffle
. This emulator is still under development and you might occasionally encounter some bugs in the game. Bugs should be fixed over time depending on the progress of the application development.
Meat Boy
Author : Newgrounds -

41 120

plays
Meat Boy was released in 2008 and became a cult online game! This game is a prototype of the famous Super Meat Boy, and reinstates certain elements that were gradually lost in the current games, such as extreme difficulty and tricky challenges. Luck has nothing to do with it, but skill, composure and precision are essential. Help the little piece of meat save his sweetheart across the game's twisty-turny levels. This game will really put your nerves to the test and an awful lot of practice will be necessary to finish the game.