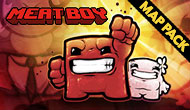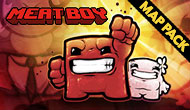 Meat Boy Map Pack
is a Flash game emulated with
Ruffle
. This emulator is still under development and you might occasionally encounter some bugs in the game. Bugs should be fixed over time depending on the progress of the application development.
Meat Boy Map Pack
Author : Newgrounds -

39 355

plays
Introducing 70 brand new levels for Meat Boy, all created by the players themselves. The levels cover 5 difficulty settings, ranging from easy to impossible, and pose a veritable challenge. You will laugh, cry, lose your temper because of a stupid death just before the end of a level, "rage quit" the game and then come back to try your luck all over again! But luck has nothing to do with it in Meat Boy, as your skill and perseverance alone will lead you to successfully completing the challenges on offer.