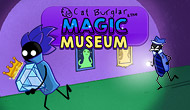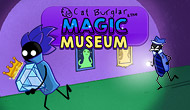 Cat Burglar & The Magic Museum
is a Flash game emulated with
Ruffle
. This emulator is still under development and you might occasionally encounter some bugs in the game. Bugs should be fixed over time depending on the progress of the application development.
Action
Cat Burglar & The Magic Museum
Author :

Lindsay LaPlante

-

14 428

plays
Will you be the best thief ever and manage to steal the world's most valuable diamond? It's your turn to play with Cat Burglar & The Magic Museum! Enter the museum and try to steal as many artwork as you can before the security alert goes off. Flee with long strides to escape the guard who will pursue you and try to reach the exit without being caught so that you can resell your loot at a high price. Sometimes clients will give you contracts that require you to steal certain specific works, complete these missions to pocket bonus money. You will be able to purchase upgrades to be faster and more discreet when infiltrating the museum. Each successful getaway will earn you experience and levels which will allow you to get upgrades for your character.

Cat Burglar and The Magic Museum is a game developed by Lindsay LaPlante for the Newgrounds Flash Forward Jam event.