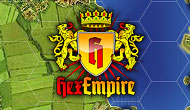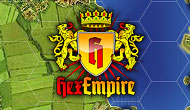 Hex Empire
is a Flash game emulated with
Ruffle
. This emulator is still under development and you might occasionally encounter some bugs in the game. Bugs should be fixed over time depending on the progress of the application development.
Action
Hex Empire
Author : Minijuegos -

88 308

plays
Lead your armies to conquer the world with the game Hex Empire. To win, your objective is to conquer and annex all of your enemies' capitals. The game smacks of the board game Risk. Players take it in turns and your battle plan needs to be really well thought-out. The smaller towns that you conquer give you more resources and different troops for battle. But diplomacy isn't dead and you can still sign pacts, but you can also rally the troops with motivational speeches!