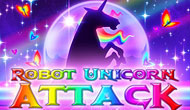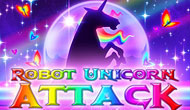 Robot Unicorn Attack
is a Flash game emulated with
Ruffle
. This emulator is still under development and you might occasionally encounter some bugs in the game. Bugs should be fixed over time depending on the progress of the application development.
- Main bugs: Game loading not visible / Music or sounds may be missing
x
Dash
z
Jump
z
+
z
Double jump
Robot Unicorn Attack
Author : AdultSwim -

18 745

plays
In Robot Unicorn Attack, send a unicorn jumping from one platform to the next, avoiding the obstacles to get as far as possible in the game's single, endless level. This is an unusual agility game, set in a magical and kitsch universe. The music is a remix of a song by an English group from the 80s, Erasure. The game may just seem cute and colourful, but it's also rather challenging and demands concentration and speed.