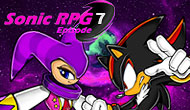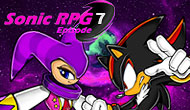 Sonic RPG 7
is a Flash game emulated with
Ruffle
. This emulator is still under development and you might occasionally encounter some bugs in the game. Bugs should be fixed over time depending on the progress of the application development.
Action
Sonic RPG 7
Author : MidNightMaren -

157 457

plays
In this 7th episode of Sonic RPG, NiGHTS and Shadow have a fierce battle against the powerful Reala on their hands, whilst Sonic continues his hunt for Seelkadoom's secret hideout. Use your characters' super powerful techniques in tactical, Final Fantasy-style battles, with the added bonus of listening to some of the saga's original soundtrack. There's no room for mistakes, as your opponents are terrifying and entirely merciless.