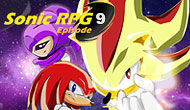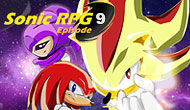 Sonic RPG 9
is a Flash game emulated with
Ruffle
. This emulator is still under development and you might occasionally encounter some bugs in the game. Bugs should be fixed over time depending on the progress of the application development.
Move
z
/
x
/
c
/
v
Attacks
a
/
s
/
d
Strategic roles
Sonic RPG 9
Author : MidNightMaren -

390 859

plays
Sonic RPG is back for the 9th instalment of the famous role play game! Take on Seelkadoom in an entirely new gaming system, which is more action-orientated than the previous episodes and has a long battle, which demands a combination of combat skills and strategic thinking. String together Shadow's skills and alternate between 3 strategic modes for your teammates (defence/normal/aggressive) so that Knuckles and NiGHTS perform their best attacks at the opportune moment. Sonic RPG 9 is also interspersed with animated scenes that draw on the Sonic series, much to the delight of its biggest fans!