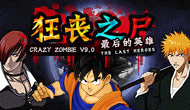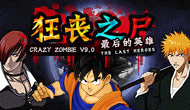 Crazy Zombie 9.0
is a Flash game emulated with
Ruffle
. This emulator is still under development and you might occasionally encounter some bugs in the game. Bugs should be fixed over time depending on the progress of the application development.
Player 1
Move
j
Attack
k
Jump
l
u
Attack
i
Ultimate
o
Energy
d
+
d
Run
Player 2
Move
1
Attack
2
Jump
3
4
Attack
5
Ultimate
6
Energy  +  Run
(You can change control keys in game options)
Crazy Zombie 9.0
Author : D-Team | 4399 -

6 235 593

plays
The living dead are unleashed more than ever and their number continues to increase in this version of the famous beat'em up Crazy Zombie 9. To help you fight the thousands of monsters, two new characters have been added. The first of them is Iori Yagami, one of the leading hero of the game "The King of Fighters". The second fighter is Ichigo Kurosaki who is the main character of the Bleach series. Prepare to defeat hordes of enemies and fight incredibly powerful and fearsome bosses.