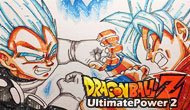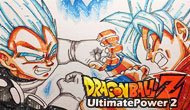 DBZ Ultimate Power 2
is a Flash game emulated with
Ruffle
. This emulator is still under development and you might occasionally encounter some bugs in the game. Bugs should be fixed over time depending on the progress of the application development.
Player 1
Move
j
Attack
k
Special
l
Block
h
Tag
i
Counter
n
Switch special
a
 ou 
d
 + 
Space
Ultimate
Player 2
Move
1
Attack
2
Special
3
Block
4
Tag
5
Counter
6
Switch special  ou  + 
0
Ultimate
DBZ Ultimate Power 2
Author :

TsunamiCoding

-

1 286 269

plays
After three years of development Ja'KeI Jenkins (TsunamiCoding) finally offers to the fans the fighting game DBZ Ultimate Power 2. More than 70 characters are playable, from the Dragon Ball series but also from the movies. The fights are dynamic, punches and kicks are devastating and special attacks, transformations and other Kamehameha will meet all the expectations of DBZ's fans. The original soundtrack will also rhythm the fights. It's possible to play both game modes against the AI but also with a friend on the same computer. Prepare for ruthless fighting between your favorite heroes!