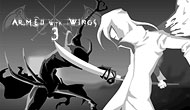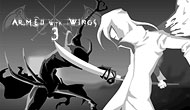 Armed With Wings 3
is a Flash game emulated with
Ruffle
. This emulator is still under development and you might occasionally encounter some bugs in the game. Bugs should be fixed over time depending on the progress of the application development.
Move Jump
a
Attack
s
Weapon
d
Skill
w
Eagle mode
Space
Action
Armed With Wings 3
Author : SuN Studios | Maxgames -

200 300

plays
All of the necessary ingredients to create a masterpiece amongst flash games are there in Armed With Wings 3. There's the mind-blowing introduction, a dark universe where the forces of good and evil are pitted against each other, stylish black-and-white graphics, exemplary playability and a remarkable soundtrack, all of which make this game one of the greats. The character's manoeuvrability and special skills make the gameplay extremely accurate and your speed and dexterity will be rewarded.