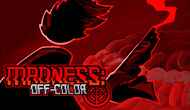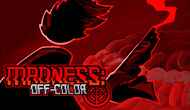 Move Jump Block Shoot Pick Up / Throw
MADNESS Off-Color
Author : Newgrounds -

58 006

plays
One strange day somewhere in Nevada, this is where the furious adventure of Madness Off-Color will begin! Pico has sunk into the world of madness and he will have to fight against hordes of enemies with only his fists...and the dozens of weapons that the opposing gangs will drop! The game's campaign will be progressive but intense, you will have to face dozens of enemies and fight using your fists and weapons that will fall to the ground. You can also return enemy projectiles by pressing the defense button at the right time. Weapons will be many and varied, ranging from a simple pistol to powerful machine guns. All this firepower will be necessary to defeat the many emblematic bosses of the game that you will probably have no trouble recognizing.
MADNESS Off-Color is a 2D shooter inspired by Madness Interactive and created for the 2021 Pico Day.
Credits:Programmer : Stepford / Art : Frameboot and ScratchPit / Sound : Vinski
You can listen to all MADNESS Off-Color music with the full album of the game.
If you liked the game, you can become a supporter of Newgrounds.