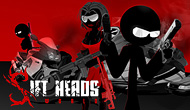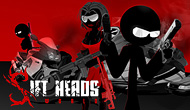 Sift Heads World Series
is a Flash game emulated with
Ruffle
. This emulator is still under development and you might occasionally encounter some bugs in the game. Bugs should be fixed over time depending on the progress of the application development.
Act 1
Act 2
Act 3
Act 4
Act 5
Act 6
Ultimatum
Action
r
Reload
Space
Unsheathe weapon
Sift Heads World Series
Author : Pyrozen -

459 597

plays
Here is the complete series of Sift Heads World. Meet Vinnie, Kiro and Shorty in no less than seven games, all the episodes of this epic series! Join our 3 heroes in a thrilling adventure with the Italian mafia, drug cartels and police. From Chicago through the Amazon rainforest, the three mercenaries will face many dangers and will know the thrill and excitement. The series is almost an interactive movie with grandiose cinematics and epic musics, sticking perfectly to the ambiance of Sift Heads.