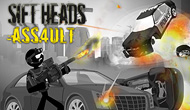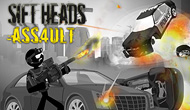 Sift Heads Assault: Trilogy
is a Flash game emulated with
Ruffle
. This emulator is still under development and you might occasionally encounter some bugs in the game. Bugs should be fixed over time depending on the progress of the application development.
Episode 1
Episode 2
Episode 3
Move Shoot
q
Change weapon
r
Reload
Space
Action
Sift Heads Assault: Trilogy
Author : Pyrozen -

97 594

plays
Here is the complete saga of Sift Heads Assault. Discover the 3 episodes of this shooter and play as a member of the elite troops who will assault the criminals in different place to deliver the city. Attack a maximum of enemies, use all of your weapons (pistol, submachine gun, grenade and knife) and try to survive as long as possible by putting cover behind the many elements of the decor. Your Stickman hero will improve in strength after each fight, he will buy equipment and new weapons to be even more effective.