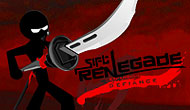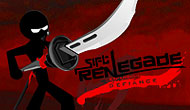 Sift Renegade Series
is a Flash game emulated with
Ruffle
. This emulator is still under development and you might occasionally encounter some bugs in the game. Bugs should be fixed over time depending on the progress of the application development.
- Main bugs: Game loading not visible / Music or sounds may be missing
Episode 1
Episode 2
Episode 3
Defiance
Move Jump Parry
x
Attack
c
Projection
z
Heavy attack
1
..
4
Change weapon
Sift Renegade Series
Author : Pyrozen -

534 734

plays
Follow the story of Kiro and his brother through their adventures within the mafia in the Sift Renegade saga. You can discover the 4 games of the series in their entirety and learn more and more about the history of the main heroes. Fight with Kiro and Keinji, use multiple weapons to gain respect in this ruthless environment, and find out who the traitor among the Yakuza was. As the episodes progress, you will be able to discover more and more fights, new movements and new weapons.