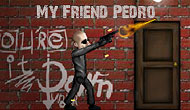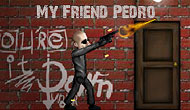 My Friend Pedro
is a Flash game emulated with
Ruffle
. This emulator is still under development and you might occasionally encounter some bugs in the game. Bugs should be fixed over time depending on the progress of the application development.
- Main bugs: Game loading not visible / Music or sounds may be missing
Move Aim and Shoot
Space
Slow down time
My Friend Pedro
Author : AdultSwim -

142 611

plays
This degenerated town, overrun by bandits and thugs was in dire need of a hero with as much class as the one in My Friend Pedro to rule the roost and restore order. With his black shades, leather jacket and smoking guns, he's ready for a brawl and keen to discover the well-hidden secret of his semi-invisible banana chum! My Friend Pedro has bloody gunfights galore, the possibility to slow down time (just like in the Matrix or the game Max Payne), an incredible soundtrack and dozens of locations to explore!