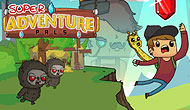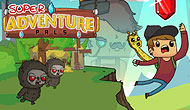 Super Adventure Pals
is a Flash game emulated with
Ruffle
. This emulator is still under development and you might occasionally encounter some bugs in the game. Bugs should be fixed over time depending on the progress of the application development.
Move
a
Attack
s
Bomb
w
d
Other
p
Pause
Super Adventure Pals
Author : Jay Armstrong | Massive Monster -

52 722

plays
Our character and his pet giraffe were having a lovely picnic in a meadow with a strange creature called Mr Rock. All of a sudden, a mad scientist calling himself Mr B appeared, interrupting their meal and capturing Mr Rock. Set off on a thrilling journey to find your funny little friend and explore an immense world through dozens of colourful and very well-made levels. Run, jump, grab onto and climb walls, and fight terrifying enemies with your sword and bombs.