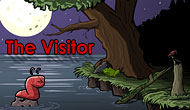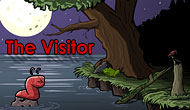 The Visitor
is a Flash game emulated with
Ruffle
. This emulator is still under development and you might occasionally encounter some bugs in the game. Bugs should be fixed over time depending on the progress of the application development.
Action
The Visitor
Author : ClickShake | Newgrounds -

173 397

plays
The Visitor is a strange little alien larva, who's just arrived on our planet on a meteorite. Seeing as he's new to this hostile and strange world, help him find food to grow and evolve. Click on elements on the screen in a very precise sequence to solve the puzzles on each level. Accompany this bizarre little larva and discover what he's come to do on Planet Earth. The game can be rather gory at times, so player discretion is advised.