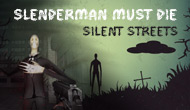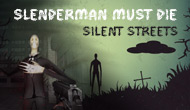 Move Shoot Aim Run
Ctrl
Crouch
Space
Jump
f
Pick up item
r
Reload
g
Grenade
z
Change Aim focus
Slenderman Must Die : Silent Streets
Author :

Poison Games

-

45 909

plays
Will you be the prey or the hunter in the horror game Slenderman Must Die: Silent Streets? The city streets have grown silent, haunted by horrible evil creatures in search of humans for food. What strange mystery is hiding in this city? Find the 8 pages of the book that are scattered around the corners of the streets, in buildings or other hidden places. Alone with your weapon, the lighting of your flashlight and the full moon, you will have to escape the Slenderman who will want to devour you whenever you find a clue. In town you can find a shotgun and some grenades to increase your chances of survival.

Slenderman Must Die: Silent Streets offers two game modes:
- Silent Streets: This is the classic game mode, explore a small abandoned town and try to survive the Slenderman.
- Christmas Special: In this special Christmas mode you will have to explore a small snowy village and find the 7 hidden gifts to defeat Slenderman and his evil companions.