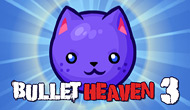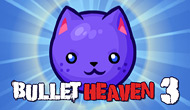 Bullet Heaven 3
is a Flash game emulated with
Ruffle
. This emulator is still under development and you might occasionally encounter some bugs in the game. Bugs should be fixed over time depending on the progress of the application development.
Move Lock the Shot
r
End a level instantly
(Controls type can be changed in the game options)
Bullet Heaven 3
Author : KupoGames -

16 544

plays
Bullet Heaven 3 is a shooting game developed for the Flash Forward Game Jam, an event organized by Newgrounds to celebrate the end of Flash Player. Control your avatar and lock your shot towards monsters to target and eliminate them, move with agility to avoid all enemy projectiles, every time you get hit you will lose a life. Bullet Heaven 3 was created by KupoGames (Epic Battle Fantasy, Adventure Story), the game uses the universe, the bestiary and the music of other titles. Even if it was created quickly to pay tribute to flash games, the title still offers long hours of play to be completed at 100%. You will be able to buy dozens of upgrades for your avatar and try to complete each level with the highest score.