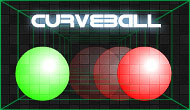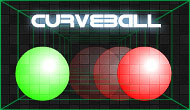 Curve Ball
is a Flash game emulated with
Ruffle
. This emulator is still under development and you might occasionally encounter some bugs in the game. Bugs should be fixed over time depending on the progress of the application development.
- Main bugs: Game loading not visible / Music or sounds may be missing
Move Launch
Curve Ball
Author :

PDMedia

-

21 783

plays
Curve Ball is a 3-dimensional version of Pong. The principle of the game is similar to table tennis, the aim being to score points by hitting the ball back to your opponent and curving the ball to trick them. Score 3 points to complete each level. But be warned, once you start playing, you won't be able to stop! Despite the game's rudimentary graphics, it provides immediate fun and is extremely addictive!