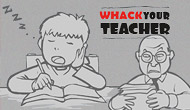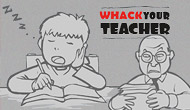 Don't Whack Your Teacher
is a Flash game emulated with
Ruffle
. This emulator is still under development and you might occasionally encounter some bugs in the game. Bugs should be fixed over time depending on the progress of the application development.
Action
Don't Whack Your Teacher
Author : Box10 -

281 344

plays
The school day was long and difficult, on top of that your teacher has punished you, forcing you to attend a particular course. But all this has lasted long enough, it's time to take revenge on that ungrateful professor. In the game Don't Whack your Teacher you will find 10 ways to beat up the teacher by using the many objects of the classroom. Look around you and interact with the environment to see the student going wild on his teacher with hilarious and gory animations.

Note : The game contains violent sequences and must be reserved for an informed public.