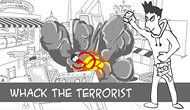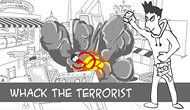 Whack The Terrorist
is a Flash game emulated with
Ruffle
. This emulator is still under development and you might occasionally encounter some bugs in the game. Bugs should be fixed over time depending on the progress of the application development.
Action
Whack The Terrorist
Author : SilverGames -

81 732

plays
No need to be a policeman overtrained to combat terrorism. A normal citizen may very well face the threat, with a little imagination. In the game Whack The Terrorist you are a tourist who quietly take his time in the city of Berlin when a masked terrorist wants to take action and to detonate a bomb. But busy with his remote control, the man don't even notice you, leaving you the time to neutralize him. Observe your surroundings and interact with different objects to stop the terrorist, all means are good, all the more gory than others.

Note : The game contains violent sequences and must be reserved for an informed public.