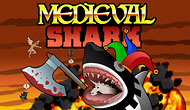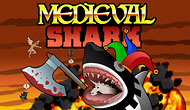 Medieval Shark
is a Flash game emulated with
Ruffle
. This emulator is still under development and you might occasionally encounter some bugs in the game. Bugs should be fixed over time depending on the progress of the application development.
- Main bugs: Game loading not visible / Music or sounds may be missing
Medieval Shark
Author : Mausland -

104 890

plays
The crazy shark from the Shark game series is back in a completely backwards and absolutely nutty medieval world! Destroy everything in your path in a fit of uncontrollable rage, flatten knights, cut down boats and zeppelins, crush fortresses, squash prehistoric birds and fight dinosaurs armed with laser beams! Medieval Shark is full of explosions, blood and mayhem, as the world crumbles in a deluge of spectacular special effects. Perfect to let off steam after a hard day!