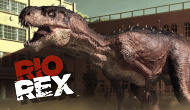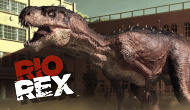 :wasd: or Move Action
Rio Rex
Author : GameTornado -

64 115

plays
Unleash the power of your dinosaur and destroy everything in town with the game Rio Rex! Control a giant tyrannosaurus
and devour all the humans that will cross your path. The city of Rio will not resist to you power. When the army will send
helicopters and tanks destroy them with your fire breath or even a giant machine gun! Will your T-Rex will be fierce enough
to spread chaos in all the 16 levels of the game and survive to the final boss ?