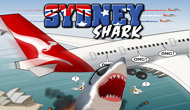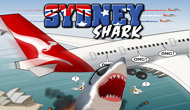 Sydney Shark
is a Flash game emulated with
Ruffle
. This emulator is still under development and you might occasionally encounter some bugs in the game. Bugs should be fixed over time depending on the progress of the application development.
- Main bugs: Game loading not visible / Music or sounds may be missing
Sydney Shark
Author : Mausland -

150 323

plays
The destructive shark continues his world tour and this time he will visit Sydney's bay. The Australian city will experience the fury and frenzy of our shark who will attack anything that crosses his path. Surfers, divers, cruise ships, army's helicopters, nothing will be too big and everything will be good to eat to fill his gargantuan appetite. Make a carnage by leading your shark and chain the destructions in front of terrified humans to reach the biggest score possible before the end of your trip.