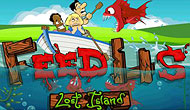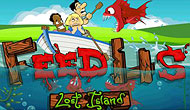 Feed Us Lost Island
is a Flash game emulated with
Ruffle
. This emulator is still under development and you might occasionally encounter some bugs in the game. Bugs should be fixed over time depending on the progress of the application development.
Action Auto targeting
Feed Us Lost Island
Author : Pyrozen -

20 790

plays
Somewhere in the Pacific lived an indigenous tribe that worshipped a fierce piranha. Fed up of the incessant waves of tourists, the tribe decided to restore peace and quiet by sending the piranha to bid a "warm welcome" to the holidaymakers. Control the fierce fish and cause absolute carnage by devouring everything that passes anywhere near those sharp teeth of yours. Complete the objectives of each mission to gather enough blood and use it to upgrade your fish and turn it into a ferocious and bloodthirsty beast that really is armed to the teeth, literally.