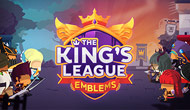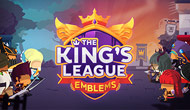 The King's League : Emblems
is a Flash game emulated with
Ruffle
. This emulator is still under development and you might occasionally encounter some bugs in the game. Bugs should be fixed over time depending on the progress of the application development.
Action
The King's League : Emblems
Author :

Kurechii Studio

-

53 820

plays
Years have passed since the last tournament organized by the king, but today, in the game The King's League Emblems, a new champion must be designated. Three clans will compete to prove they have the best fighters in the kingdom, and the winner will be covered with gold, glory and will have the privilege of dining with the King. Choose your champion and train him to become stronger, more valiant and win the tournament. The Clan Valori and his powerful warriors will be represented by the champion Doran, the ruthless hunters of the Clan Artenia will be represented by the archere Cecily and Colette will be the ambassador of the formidable mages of Clan Mytheon. Complete quests, train hard your champions, gain experience and form the best team to win the league.