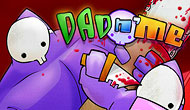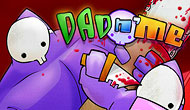 Dad N Me
is a Flash game emulated with
Ruffle
. This emulator is still under development and you might occasionally encounter some bugs in the game. Bugs should be fixed over time depending on the progress of the application development.
Move
a
Hit / Catching an object
s
Hit hard
Dad N Me
Author : Newgrounds -

424 634

plays
Dan 'n' Me is full of fast-paced brawls, punches, combos, slaps and kicks, with a good dose of humour to boot. Dad 'n' Me is pure action at your fingertips, music that will be stuck in your head for days, fun, finishing moves and bosses to beat up! An absolute must for all fans of fighting games!