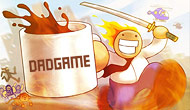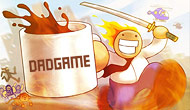 DadGame
is a Flash game emulated with
Ruffle
. This emulator is still under development and you might occasionally encounter some bugs in the game. Bugs should be fixed over time depending on the progress of the application development.
- Main bugs: Game loading not visible / Music or sounds may be missing
Move Jump
z
Hit
Space
Launch an object
c
Spit out a weapon
x
Laser
DadGame
Author : Newgrounds -

96 577

plays
Dad had a very bad day at work, he is angry against the whole earth and especially to his boss that he cannot stand anymore. He decided to steal top secret plans of his company, but the boss will not like and will send an army to chase Dad. DadGame is a furious Beatem all, ideal to unwind after a hard day, you will demolish and destroy everything, in an almost uncontrollable frenzy! Hundreds of enemies to eliminate dozens of bosses to kill, the carnage will never end. The three levels of difficulty offer a good challenge and therefore gives the game a good replay value.