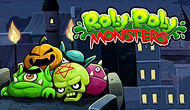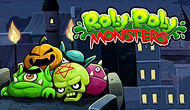 Roly-Poly Monsters
Author :

Eugene Kuzmin

-

15 268

plays
The evil creatures of Roly-Poly Monsters are back to invade the city and make darkness reign. Eliminate them using your cannon by firering bombs to make the vile creatures explode. Create chain reactions by interacting with the different elements of each level to neutralize the monsters and often detonate them in a spray of blood!

How to play Roly-Poly Monsters?Aim and shoot with your cannon to launch bombs that will explode after a while. Eliminate the monsters directly or use the many elements of the decor which will often be fatal.
What are the tricks for the Roly-Poly Monsters game?- Use game physics to create chain reactions that will often be surprising in their results.
- To obtain the three stars of each level it will be necessary to use a minimum of projectile. Observe and study the levels well for maximum efficiency.
- If the monsters howl with fear it's that you have undoubtedly found the solutions to eliminate them!
Who is the developer of Roly-Poly Monsters?The game was developed by Eugene Kuzmin and published by FDG Entertainment.