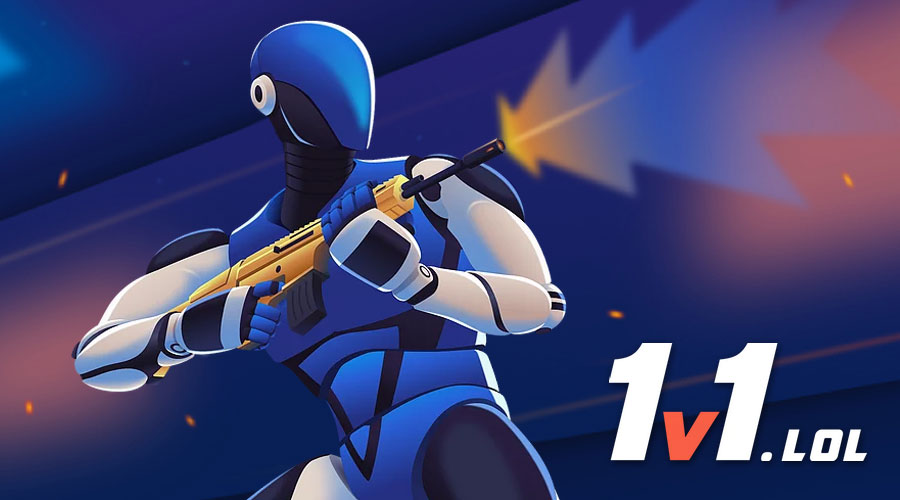 Move Aim and Shoot
r
Reload
Space
Jump Crouch
e
Interact
f
Pickaxe
1
2
3
Change weapon
z
x
c
v
Build
1v1.LOL
Author :

Justplay.lol

-

1 000 460

plays
Battle against online players and try to be the last survivor in 1v1.LOL, a multiplayer shooter game. Inspired by Fortnite in its platform building mechanics, 1v1.LOL features immediate action in an arena with a fixed size. All players will have the same weapons and can protect themselves by building various platforms. It will also allow you to gain height and take advantage over your opponents. To win a game you have to be the last player or the last surviving team. Choose your playstyle, will you be more of a sniper who will take out enemies from afar, or a fighter using a shotgun in close range clashes? 1v1.LOL offers immediate action for intense and fast games.
What are the game modes of 1v1.LOL?- BR Duos: 4 teams of two players compete in an arena. Be the last surviving team to win the game.
- 1v1: Fight in a duel against another player, clashes will be intense and fast.
- Box 2v2: Two teams of two players compete in a small arena.
- 1v1 Comp: One vs One ranked mode.
- Box Comp: Team ranked mode.
- Party: This mode allows you to create personalized parties and invite friends to play.

The game also offers two modes for training, one for building and one for practicing aiming.
How to invite friends to play 1v1.LOL?From the main menu of the game, click on the 'Party' button. Select 'Create Party' and customize your settings. Click on the 'Create Party' button again to generate a code that you can share with your friends so that they can join you.