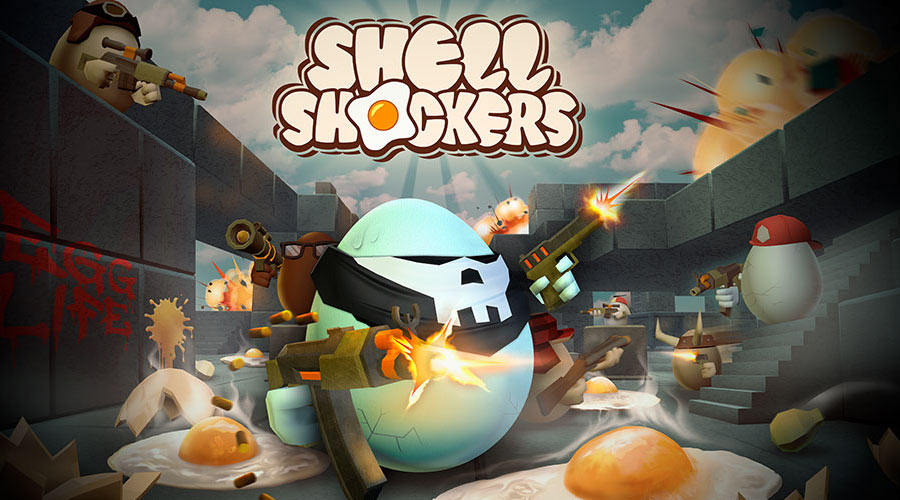 Move
Space
Jump Aim and Shoot
r
Reload
e
Change Weapon
z
Grenade
(Controls can be changed in the game options)
Shell Shockers
Author : Blue Wizard Digital -

1 721 152

plays
The egg yolk of your enemies will sink in Shell Shockers (shellshock.io), an online 3D multiplayer first person shooter. The goal will be to transform your enemies into omelets by destroying as many eggs as possible with your weapons. Choose your class (egg soldier, ranger, scrambler or fried egg) and enter the arena to atomize the other players. Surviving in Shell Shockers will be as difficult as walking on eggs and to achieve the longest elimination streak you will have to be agile, vigilant but also ruthless. You can customize your avatar by adding hats and other cosmetic accessories.
What are the game modes of Shell Shockers?- Free For All: This game mode is played individually, all other players are your enemies and the objective will be to eliminate as many opposing players as possible while remaining alive. Each elimination is worth a point, but if you die you lose all your points.
- Teams: The rules are the same as the Free For All mode but in this mode two teams compete against each other, the reds and the blues.
- Captula the Spatula: In this game mode two teams compete against each other to try and capture a spatula and keep it as long as possible. Each enemy killed while your team has the spatula is worth one point in the team's score.
What are the different weapons in Shell Shockers?- (EggK-47): This is a medium range rifle with a great rate of fire.
- Scrambler (Dozen Gauge): This is a shotgun that will take out any player near you with one hit. It's a short range weapon with a two round magazine.
- Free Ranger (CSG-1): This is a semi-automatic, mid-range sniper rifle, excellent counter against Snipers.
- RPEGG: This is the egg version of the rocket launcher, it does high area damage, ideal for killing groups of eggs. It's effective only at medium range.
- Whipper (SMEGG): This is a short range assault rifle that will fire high speed bursts of bullets at your enemies. A devastating high rate of fire for your opponents!
- Crackshot (M2DZ): This is the Sniper rifle of the game, a single bullet will be enough at long range to eliminate your enemy but you will need to reload after each shot.
Who is the developer of Shell Shockers?Shell Shockers was developed by by Blue Wizard Digital who have made other games such as Bad Egg or Bullet Town