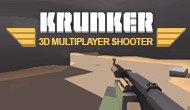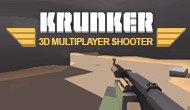 Move Shoot
Space
Jump Crouchr
r
Reload
q
e
Change weapon
(Controls can be changed in the game settings)
Krunker.io
Author :

Sidney de Vries

-

816 903

plays
Compete online against other players in Krunker.io, a fast and nervous multiplayer 3D FPS where you have to try to eliminate as many players as possible to win the game. Try each of the 6 character classes to find your style of play, they all have a different weapon. Will you choose the mobility of the Triggerman with his assault rifle, the raw power of the Run N Gun and his machine gun or the precision of the Hunter with his sniper rifle?
How to play Krunker.io?Krunker.io is a dynamic shooter in which you will have to be on your guard constantly, be as reactive as possible and try to eliminate your opponents before they have time to do so. Pay attention to the surrounding shooting noises, run through the maps with caution and also try to memorize them so that you are never caught off guard and know as well as possible the battle grounds.
What are the different classes in Krunker.io?Krunker.io has the particularity of offering many character classes which will each have their own playstyle and weapons. They are divided into three categories. The light classes (Agent, Hunter and Run N Gun) will be fast, agile, lightly armed but also very fragile. The medium classes (Bowman, Commando, Detective, Triggerman, Marksman and Vince) are a balance between effective weaponry, mobility and resistance. The heavy classes (Spray N Pray and Rocketeer) are heavily armed, resistant but not very mobile.
What are the game modes for Krunker.io?Krunker.io offers many game modes, in public or ranked mode.
On public servers you can battle in 4 official modes:
- Free For All: the classic mode of the game, each player play for himself, the winner is the player with the highest score at the end of the match.
- Capture the flag: this is also a classic mode in which you play as a team and whose objective will be to capture the opposing flag and bring it back to your base while defending your own flag.
- Team Deathmatch: the team deathmatch mode is played in cooperation, the victorious team will be the one that will accumulate the most points at the end of the game.
- Hardpoint : It's a point domination mode. 4 zones will be activated on the map for 1 minute each, controlling them will grant points to your team. Victory will be awarded to the team with the most points after 4 minutes.
The ranked mode offers to play competitive matches in 1v1, 2v2 or 4v4. It's accessible from level 15 and will allow you to climb the ranks of the online leaderboard of the game.

Who is the author of Krunker.io?Krunker.io was created by Sidney de Vries, the same developer as Moomoo.io.