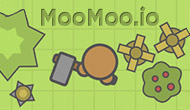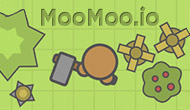 Move Action
e
Auto Attack
1
-
9
Select Item Chat
Moomoo.io
Author :

Sidney de Vries

-

426 149

plays
Play against online players and try to survive as long as possible in Moomoo.io, a multiplayer defense game. Collect resources on the map to build a village and defenses to protect you. Gain experience to pass through different ages and unlock new items, buildings and weapons. Eliminate other players and gain ranks in the general leaderboard of your game. You can also form clans, alliances, play with your friends and try to reign supreme by destroying the villages and constructions of other players. Will you succeed in becoming the king of Moomoo.io?
What are the rewards of the different ages in Moomoo.io?
- Age 2: You can choose one of the 6 items offered. The Sword that deals more damage but slows your movement, the Axe that allows you to harvest resources faster but has lower attack power, the Bat that has a long range, the daggers that have faster very high attack, the Polearm which does very high damage at the cost of a low attack speed and the Staff which is designed for gathering resources and does not attack.
- Age 3: You can obtain either the stone wall (much more resistant than the wooden wall) or the cookie which will allow you to heal 40 life points.
-Age 4: You can choose between the Trap, invisible to other players and which will prevent them from moving for a few seconds, and the Booster Pad that you will have to place on the ground and then walk on it to obtain a temporary bonus of movement speed.
- Age 5: You have three choices, Large Spikes (which do more damage), Fast Windmill (which has better gold production) and Mines which can be placed on the ground.
- Age 6: Three important items will be offered to you to choose from. The Bow which is an excellent ranged weapon, the Hammer which inflicts massive damage to buildings and the Shield which will completely block ranged attacks.
- Age 7: You can choose between two very good endgame items. The turret defense that shoots powerful cannonballs and the Platforms that can be used to create bridges or to shoot over walls and pikes.
- Age 8: You will have the choice between three powerful end-game weapons. The Katana, which does huge damage and has a great range (improvement of the sword), the Crossbow which is the most powerful ranged weapon (improved of the bow) and the Great Ax which allows you to harvest much more resources (improved of the axe).
-Age 9: This age will give you Poisoned Spikes which will deal damage over time to anyone who hits them.
How to earn gold in Moomoo.io?Gold is used to buy items in the store, it's the only items you can keep after your death.

The different methods to earn gold are to harvest resources from a gold mine, build windmills, kill monsters, equip yourself with the miner's helmet or the mill hat, and kill other players.