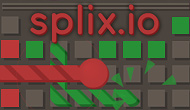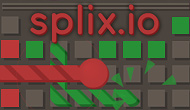 Se déplacer
Splix.io
Author :

Jesper The End

-

272 942

plays
The online multiplayer arcade game Splix.io proposes an original concept and idea, strongly inspired by the illustrious JezzBall released in 1992 on PC's. You run a sphere of color which aims to fill as much as possible squares of your own color on the map. You start with just a small square to symbolize your territory and will try to extend it as much as possible, at the expense of other players obviously. It's possible to annihilate an opponent or instead lose the game quickly. To do this, you need to cut the trajectory of other players and thus pass through the line they are drawing. Stay vigilant, danger can come from anywhere !
How to play Splix.io?The game is playable on computer, tablet and mobile.
On computer, use the arrows on your keyboard to move around and try to enlarge your territory by coloring the boxes on the map. In order not to risk another player coming to cut your line and therefore eliminate you, it's better to expand your territory in small blocks.
What are the game modes of Splix.io?- Normal: This is a Free-For-All mode in which you compete against all the other players on the map. The goal will be to enlarge your territory as much as possible in order to increase your score and reach the top of the leaderboard.
- Team: This mode allows you to invite friends to create a team and play cooperatively. Copy the generated link and pass it on to your friends so they can join your game. All the members of your team will have the same color and you will have to join forces to enlarge your territory to the detriment of other teams.