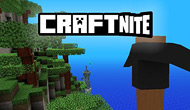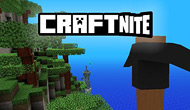 Move Shoot / Use
Space
Jump
r
Reload
1
...
4
Switch item Open inventory
(Controls can be modified in the game settings)
Craftnite.io
Author :

Christopher Lied et Pierre-Eli Normandeau

-

348 474

plays
Craftnite is a multiplayer shooting game mixing Fortnite and Minecraft in which you will face other players on a huge map. The goal will be to eliminate as many opponents as possible to reach first place of the leaderboard, but also to stay alive as long as possible. You can loot many weapons, dig to hide or build stairs to reach the heights of the map.

How to play Craftnite?In Craftnite.io you can run, jump, aim and shoot as in a classic shooter but it will also be possible to build structures to hide, stairs to gain height or to dig to discover weapons and other objects which will go into your inventory (tab key).
What are the tips for the game Craftnite?- Try to find the locations of the best weapons on the map.
- Reach the heights to have an overview and better see the other players. For this, dig in order to obtain stone blocks or build stairs if you have them.
- Dynamite does a lot of damage, use it with care!
- The controls can be modified in the options.
- If the game lag, try to deactivate the ambient occlusion in the options.
Who is the developer of Craftnite?Craftnite is developed by Pierre-Eli Normandeau and Christopher Lied.