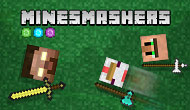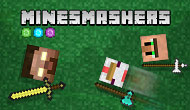 Move Attack Sprint
MineSmashers.club
Author :

Centipede5

-

167 331

plays
Enter the MineSmashers.club arena and compete against other players with different character classes. Use your sharp weapons to try to take out your opponents and gain experience and levels to get stronger in the game. MineSmashers.club offers 6 characters classes to unlock, pig, chicken, spider etc., they each have their own characteristics. In game you can collect small colored balls which will bring you a bit of experience. Trying to eliminate an opponent will be dangerous but also very well rewarded if successful.
What are the character classes of MineSmashers.club?The game offers 6 character classes to unlock depending on your level:
- Pig: 50% stamina
- Chicken (level 3): 50% speed
- Spider (level 7): 50% health
- Wolf (level 9): 50% damage
- Villager (level 12): 25% health, 25% speed
- Herobrine (level 15): 25% theft of life and 25% of damage
What are the tips for MineSmashers.club?- When you begin a game it is very risky to attack other stronger players, prefer the collect of colored orb to pass the first levels.
- To avoid dangerous situations use your sprint, but beware this consumes a bit your experience bar.
Who is the developer of MineSmashers.club?MineSmashers.club was created by Centipede5, an American game developer.