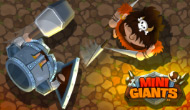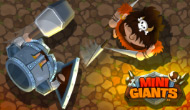 Move Attack Boost
MiniGiants.io
Author : Night Steed Games -

271 233

plays
The war between the giants is raging, the battles will be ruthless in the online multiplayer game MiniGiants.io. Fight other players without fear and try to kill them to gain experience and possibly pick up a loot chest. In each game you will gain money and the chests will provide equipment that can be upgraded. The experience gained during your many battles will allow you to gain levels and unlock 7 other character classes, each with its own gameplay style and characteristics.
How to play Minigiants.io?Move around the map with your mouse and collect stones to gain experience and level up. Attack other players with the left button and use the sprint with the right button, this is limited but recharges over time.
What are the tips for Minigiants.io?- At the begining of the game you will have to try to level up as fast as possible, collecting shiny stones is the best way to quickly pass the first levels.
- Opponents with higher level than you will be very dangerous, avoid attacking them and run away instead. On the contrary, opponents of lower levels are easy prey, chase them down to eliminate them and receive bonus experience.
- Enemies will sometimes drop chests, be careful to collect them before other players!
What is gold and gear used for in Minigiants.io?During your games you can loot chests which will contain gold and sometimes equipment. Your characters can all be equipped with different pieces of armor and a weapon. These gear can be of different qualities, ranging from Common to Epic, and they can be upgraded with gold to increase their stats. So spend your gold wisely and focus on upgrading higher quality weapon and armor.
Who is the author of Minigiants.io?The game was created by Night Steed Games, the same developer as EvoWars.io and BrutalMania.io.