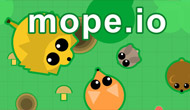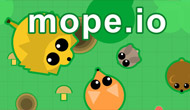 Move Accelerate Special Skill
Mope.io
Author :

Stan Tatarnykov

-

379 146

plays
Eat, grow, evolve and try to survive in the ruthless world of Mope.io, an arcade multiplayer game. Begin your story by choosing to be a little mouse or a shrimp. Evolve into a earthly or marine ecosystem, feed yourself enough and turn into other animals as you progress. Rabbit, Crab, Bear, Crocodile, Elephant, Orc, each species has a special skill that will help you survive or attack other players. Because in Mope.io, the biggest threat will come from your congeners led by other players. Eating or being eaten is the law of evolution and survival in the game Mope.io.
How to play Mope.io?You start the game as a small animal (a Mouse, a Desert Rat, a Shrimp or a Chipmunk), move around the map with the arrows on your keyboard to find food and gain experience. Accelerate with the left mouse button and use your special skill with the right button.
What are the tips for Mope.io?The goal of the game is to gain experience so that you can transform into another more evolved animal. There are over a hundred animals ranging from Tiers 1 to Tiers 17 and some are very rare.
To gain experience you need to find food and water, but also hunt lower level prey than you, those players with a green border. But beware of players with a red outline, you will be the prey and risk being devoured.