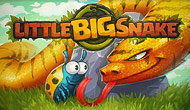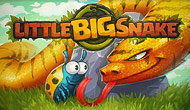 Action
Little Big Snake
Author :

Neodinamika

-

969 785

plays
The little snake will become enormous and much more in the multiplayer arcade game Little Big Snake! Inspired by well-known names such as Slither.io, Little Big Snake pushes the concept even further. Play on a gigantic map with varied environments and compete against up to 200 players simultaneously during your games. Absorb energy to grow your snake and try to block the way of other players to recover their mass and grow faster. Little Big Snake proposes quests, a system of level progression, a temple in which you will be able to spend gold to buy permanent improvements, dozens of skins to collect but also chests to unlock and obtain even more rewards. You will also be able to follow your statistics during the games as well as your online ranking. It's your turn !
How to become VIP in Little Big Snake and what are the advantages?To become VIP in the game, you have the option of subscribing with two plans, a monthly or annual subscription. This offers you many advantages:
No ads, extra life in your games, double treasures, the ability to chat with your friends, access to brand new skins for your snake, and extra keys to open chests.
How to get crowns and medals in Little Big Snake?
- Medals are earned in-game when you manage to reach the top 10 of the leaderboard. The higher your ranking, the more medals you will get.
- Crowns are also obtained in-game. They can be obtained when entering the top 10 of the leaderboard (with a mass of more than 10 tons) but can also be dropped randomly on the map or by eliminating an enemy.
How do I receive keys in Little Big Snake?
The keys are obtained during your games depending on the mass you manage to achieve:
- 500 Kg = 1 key / 2 Tons = 2 keys / 5 Tons = 3 keys / 10 Tons = 5 keys. You will then get one key for every additional 5 tons with a limit of 10 keys per game.
What is the rebel hunt in Little Big Snake?Regularly during your games the first player of the leadeboard will be designated Rebel by Rudolph XIV (the Snake King). A bounty will then be placed on his head and the player who manages to eliminate the rebel will receive rewards. If you become the Rebel, you remain that way until you die, even if the other players pass you in droves.