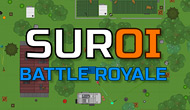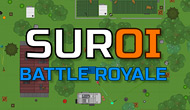 ou  Move Shoot / Hit
f
Take / Resuscitate
1
2
Change Weapon
r
Reload
Surviv.io
Author :

Chpsterz

-

1 343 034

plays
Try to be the last survivor of a ruthless Battle Royale in the game Surviv.io. Like a 2D's Fortnite or PUBG, you will have to explore a large map looking for weapons, ammo and bonuses in order to eliminate every opponent who has the misfortune to cross your path. As the game progresses, the "safe" zone will be reduced and to stay alive it will be imperative to move and make sure to be in the circle shown on the mini-map. You will also be able to see in real time the number of remaining survivors in your game. Be smart and ruthless to hope to finish at the first place!
How to play Surviv.io?The goal of surviv.io is to be the last player alive. You only have one life per game, if you die, you will not reappear! At the start of the game you will be dropped on an island with around fifty other players and only your fists to fight. The map is littered with weapons, armor, useful items, and ammo that you will need to try to retrieve for a better chance to survive. Move carefully and try to eliminate other players so that you can get their items. Survive as long as possible while staying in the safety zone.
What are the game modes of Surviv.io?The three main game modes of Surviv.io are the single player mode, in which players will fight for each other, the duo mode which will allow you to be grouped with a friend or another player to cooperate and the squad mode which will bring together 4 players in the same group and whose victory will be collective and awarded to the last living team. Many temporary game modes regularly appear, they generally last a few days or weeks and offer new and original game rules.
What are the best weapons in Surviv.io?Surviv.io currently contains 112 weapons: 71 rifles, 7 grenades and 34 melee weapons. According to numerous comparisons, two weapons stand out in particular. The M249 is characterized by high damage per second, very good accuracy but above all very good damage against the covers, it is the ultimate anti-camper weapon. The Saiga-12 is arguably the most powerful weapon in the game, it will allow you to eliminate players before they even have time to hurt you! It's a rather rare weapon but coupled with red ammunition it will be of incomparable efficiency.
Who is the best Surviv.io player?Surviv.io offers a ranking of the best players detailed daily, weekly and of all time. You will be able to see which player has made the most kill, damage and the number of victories, in solo, duo or special modes.
Who is the developer of Surviv.io?Surviv.io was originally developed by Justin Kim, Nick Clark and Magma. The game was then bought by Kongregate, Justin and Kim having left the project, Magma is currently the only developer.