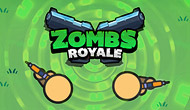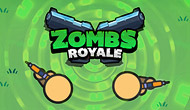 Move Aim and Shoot
e
Interact
q
Build (Construction mode only)
ZombsRoyale.io
Author : End Game Interactive -

951 423

plays
In the online multiplayer survival game ZombsRoyale.io your goal will be to stay alive by all means and at the expense of other players! Will you be the hunter or the prey in this ruthless world of BattleRoyale, like a Fortnite.io on a browser? After being parachuted on the map from a plane, you will need to quickly find a weapon to try to survive the first clashes, often fatal. Be on your guard, do not trust anyone and stay alert in any situation if you want to be the last survivor of your game.
How to play ZombsRoyale.io?At the start of the game, all the players are on a plane that travels the game map. Press space to drop to the desired location and once on the ground try to find a weapon and ammunition as quickly as possible to survive. Move around the map to try to eliminate other players, but be sure to stay in the safety zone all the time, which will decrease as the game progresses. The winner of a game will be the last player alive! By creating a free account you will have access to many options such as the possibility to personalize your profile, buy cosmetics for your avatar or see your friends online.
What are the game modes of ZombsRoyale.io?ZombsRoyale.io offers three main game modes. In single player mode you will be playing alone against other players and will have to try to survive on your own. The Duo mode allows to play in pairs with a friend to cooperate. The Squad mode will bring together 4 players and the victory will be by team. Temporary game modes regularly appear, they offer different rules of game and original objectives to achieve.
What are the best weapons in ZombsRoyale.io?Many types of weapons are available in the game, pistols, assault rifle, SMG (submachine guns), shotgun, grenades but also unique weapons. They can be of different color which corresponds to the quality of the weapon. Gray for common weapons, green for unusual weapons, blue for rare, purple for epic, yellow weapons will be of legendary quality and red weapons will be of mythical quality. The rarest the quality of the weapon be, the more effective and dangerous the weapons will be. To be as optimized as possible, try to get short range weapons (like the shotgun), medium range weapons (like the Vector or MP5) and long range weapons (like the XM8 or AK). Grenades and other consumables will also be a significant asset in your inventory.
Who is the developer of ZombsRoyale.io?ZombsRoyale.io was created by YangCLiu, a developer who founded the End Game Interactive studio. YangCLiu also developed Betrayal.io and Spinz.io.