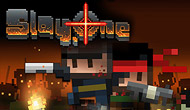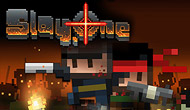 Move Shoot Jump
q
Ability 1
e
Ability 2
r
Reload
f
Stand / Aim with Sniper
1
2
3
Change Weapon
(You can setup control keys in game options)
Slay.one
Author :

KingsGroup

-

309 993

plays
Play against online players in ruthless and raging battles with the action / shooter game Slay.one. Three game modes are available, the first one will allow you to play cooperatively and fight zombies infected by a virus. If you die you will then become an undead and have to fight other humans. The second game mode allows you to play as a team in death match or capture the flag. The last game mode will bring together dozens of players on the same map for bloody clashes in free for all, only the strongest will survive and finish first of leaderboard.
What are the game modes of Slay.one?- Free-For-All: In this game mode the objective is to eliminate the other players to score points. On the contrary, if you die you lose points. Each game lasts 10 minutes, the winner will be the player with the highest score at the end of the time limit.
- Zombie Co-op: Two camps clash, you can either be a zombie or a human. Zombies will have to infect humans, they cannot use weapon or jump but have special skills that can evolve. The humans on the other hand will have to eliminate the zombies using many different weapons.
- 1v1 Ranked: Compete against another player in one vs one duels and try to win the game to earn Elo points which will allow you to move up on the general ranking. Each player has 5 lives, the first who dies 5 times loses the game but also Elo points. This mode is accessible from level 2.
- Team Capture The Flag: Two teams compete against each other and must try to capture the opponent's flag and bring it back to safety. Escort the flag bearer to help him or conversely try to attack the opposing flag bearer to get him back. Each flag brought down earns points, the winning team will be the one with the highest score at the end of regulation time. This mode is accessible from level 3.
- Team Deathmatch: Two teams compete against each other and will have to eliminate opposing players to score points. Cooperate with your teammates to get as much elimination as possible and achieve victory. This mode is accessible from level 6.
Why create an account on Slay.one?Registering and creating an account is fast and free, it will allow you to gain experience and levels and thus unlock all the game modes. You can also choose your special skills and improve them but also unlock many skins for your character.