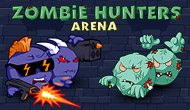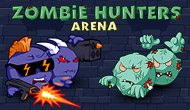 or   Move Aim and Shoot
Zombie Hunters Arena
Author : Pixel-Cave -

42 829

plays
In the game Zombie Hunters Arena you will have to cooperate with other online players to try to survive facing hordes of zombies which will surge in successive waves more and more dangerous. Equip yourself with various weapons and annihilate the undead by a hundred to gain experience and levels. The arena will be dotted with bonuses such as armor, grenades, healing kits and drones, use them to gain advantages in your game because the objective will be to survive as long as possible.
How to play Zombie Hunters Arena?- Click on Play to enter a game
- In the home screen of the game you can customize your nickname.
What are the tips for Zombie Hunters Arena?- Cooperate with other players to be more efficient and increase your survival chances.
- You pick up and activate automatically bonuses and weapons when your character passes over it.
Who is the developer of Zombie Hunters Arena?The game was created by Pixel-Cave who also developed Handless Millionaire
The music was composed by Darkman007