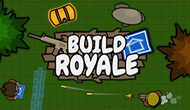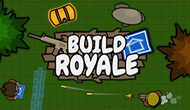 Move Aim and Shoot
Space
Jump Inventory
m
Map
r
Reload
BuildRoyale.io
Author :

Mathew Matakovic & Joel Owen

-

812 378

plays
There can be only one ! Be the last survivor to win a game in BuildRoyale.io, a royal battle multiplayer game. Enter the arena with fifty other players and at the beginning of the game hurry to find weapons and equipment if you want to survive. Also collect resources, wood and metal, to build walls and fortifications that will protect you during clashes with other players. Good luck, have fun and be ruthless to finish on the podium of each game.
What are the game modes of BuilRoyale.io?- Solo: You are alone against all, survive as long as possible in this free-for-all mode.
- Duo: In the duo mode you can cooperate with another player as a team. Combine your forces to survive, it will be possible to provide assistance to your teammate and to share objects or weapons!
- Squads: It's the three players mode of the game, you will have to cooperate with two allies to defeat the opposing teams and try to be the last surviving team. The coordination of all the squad members, sharing weapons and items, and helping teammates will be the keys to winning.
How to play with friends to BuildRoyale.io?To invite friends to play as a team with you, click on the 'Create Party' button at the top left of the game's home screen. A code will be created (Party ID), you just need to send it to your friends so they can join your team by clicking on the 'Join Party' button.
Who is the best player in BuildRoyale.io?The game features a ranking of the top 50 players daily, weekly and all time, either by number of wins or number of eliminations. Will you be strong enough to appear in the leaderboard ?